MG - Dinosaur Stakeout (Dinosaur Adventure Series #3)(by Judith Silverthorne)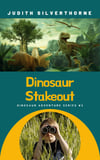 Paperback
22.9 x 15.2 cm (9 x 6 in)
Following the adventures of Dinosaur Hideout and Dinosaur Breakout, twelve-year-old Daniel Bringham once again travels back to the time of dinosaurs to learn more about the prehistoric creatures he loves. This time he has an unexpected companion. In Dinosaur Hideout, Daniel and his neighbour, Ole Pederson, made a brilliant discovery: the fossil remains of a dinosaur, an Edmontosaurus they called Marianna. In Dinosaur Breakout, Daniel had an even more amazing adventure.
Now, in Dinosaur Stakeout, Daniel decides to travel to the past one more time. He wants to find out if a dying female dinosaur he saw on his last trip is Roxanne, the fossil he and Pederson found in Book One. Daniel figures to go alone, but he's figured without Pederson and his friend Mildred Roost, another palaeontologist.
Mildred insists on coming with him and Daniel thinks it'll wreck everything. An old lady will just slow him down, and if she gets killed, he'll blame himself. But he's reckoned without a tough old bird with lots of tricks up her sleeve, tricks that could save both their lives.